Your front porch is the best place to enjoy summer this year because you will get to spend the warm breeze outdoor day and night. But, to do this, you need to have a cozy front porch and decorating it will be a great idea. Here are some front porch decoration ideas that you can replicate easily and be prepared to have the hottest front porch in the entire neighborhood. Not only have the perfect front porch, but you will also get the inspirations to decorate it in the cheapest way possible.
Read also: 15 Most Popular Front Porch Design Ideas for you to Steal.
1. Vintage Touch Front Porch
If you like to have a simple and affordable decoration for your front porch this summer, this vintage touch front porch is very suitable for you. If you happen to have an old metal chair, you can repaint it to make it looks new.
Painting it red will contribute to brightening the mood of the porch. It will also go well with the summer mood. Don't forget to place a rug underneath to make the porch look cozy.
2. Family-friendly Front Porch
Summer is the best season for all families to gather and front porch will be the best place to spend the hot day with the family. If you also want to have your own family gathering this summer, arranging a dinner table on the porch is a good idea.
To have a better summer vibe, place some potted plants on the table. They can be the centerpieces of the table as well as making the ambiance more cheerful.
3. Homey Front Porch
If you want to have your own family gathering, but don't have space for a dinner table, you place a coffee table and sofa in your front porch. You can also decorate the coffee table with some plants and books to entertain your guests. To make it cozier, you can place a potted flower on the entrance and combine it with rustic lantern and water jug.
4. Flower Garden
Summer is also the best season for displaying your favorite flower, especially if they only bloom in summer. Placing some potted flowers on your porch will be a good idea to make the flower get enough sunlight and it will also a good idea for decoration. To make the hot summer cooler, you can also hang some plants because those plants will block the excessive sunlight to enter the porch.
5. Modern Cozy Escape
If you have an industrial-themed house, this modern cozy decoration will be suitable for your front porch. This theme doesn't require you to place different kinds of decoration.
You just need your sofa and a coffee table on your porch. If you happen to have a fireplace on your front porch, arranging the woods can be a great additional decoration for you. It may look simple, but it will allow you to have spacious space that you can use for other purposes.
6. Monochrome Porch
Summer can be very hot during the day, but you can prevent it by using monochrome decoration for your front porch. The monochrome design here will make the overall atmosphere cooler and you don't need lots of decorations, to begin with.
Just place a large bench on your porch and arrange some pillows on it. Place some decorations underneath the bench, like these white pumpkins. Don't forget to paint the bench white so that the front porch will feel cooler.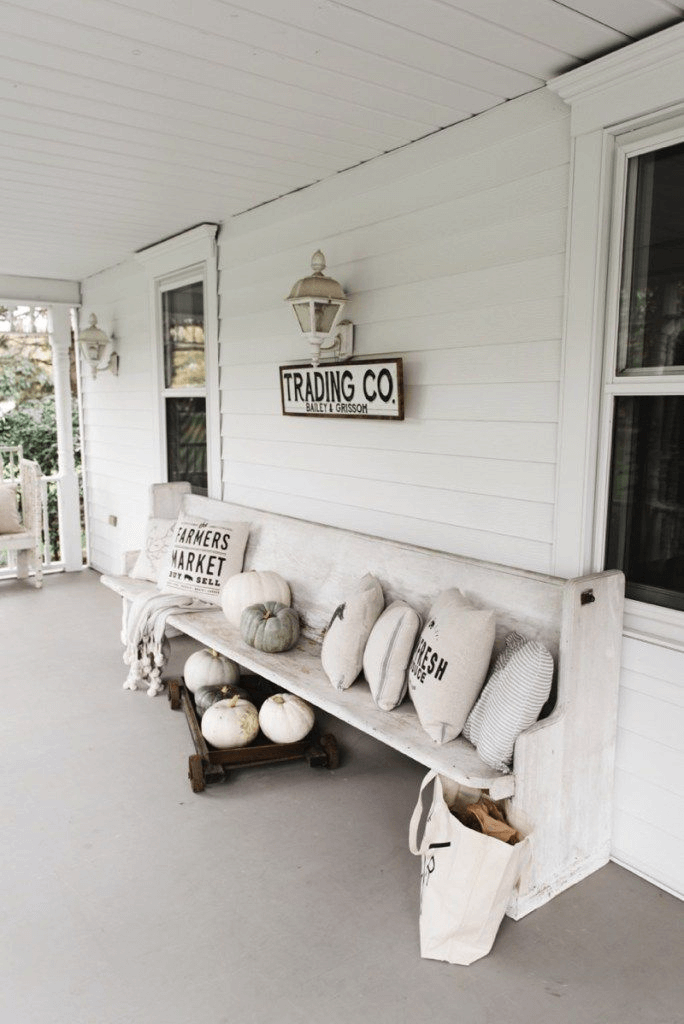 Tips to Decorate the Front Porch Your Own Way
a. Decide the Theme of Your Front Porch
There are different kinds of front porch decorations that you can try. You can always use all of them, but it will only make your front porch looks crowded.
Some people believe that your front porch resembles your personality and if you use different decorations at once, you will be perceived as an unorganized person.
To avoid it, it is better if you decide a certain theme to decorate your front porch in summer. After you've decided the theme, you need to stick to it and only choose the decorations that will go well with the theme itself.
b. Play with Color
Summer is very identical to vibrant and cheerful color. To have your own summer front porch, you can choose a different color to make your front porch brighter and you can combine different colors at once here.
It's perfectly fine if you want to use a warmer color because it will be very good for the summer night ambiance. Don't be afraid to use different color combinations here as long as one color doesn't empower the other color.
c. Add Your Favorite Flowers
One of the greatest things you can find in summer is the birth of lots of beautiful flowers that you won't find in other seasons. It is a great chance for you to use those beautiful flowers as your front porch decoration.
You can use them as the centerpiece of your coffee table, fresh ornament for your stairs, and great welcome sign beside your door. If you don't really have lots of space on your front porch, you can hang the pots to make your porch cooler.
d. Place a Cute Doormat
To make your porch feel like home, you can place a cute doormat there. The doormat will be the best welcome sign for your guess and it will prevent the dirt to enter the house. You can make or customize your own doormat so that it will be different from another common doormat.
e. Repurpose Old Decoration
Decorating your front porch doesn't always make you broke in an instant. Instead of buying the decorations, you can make your own by using the old decorations or even some unused things you can find in your house.
Take, for example, this colorful coffee table. You can make it easy with woods and paint you have. But, if you happen to have an old coffee table, you just need to paint it to make it looks new. You can also add some details and ornaments to make the coffee table looks unique.