Where do you usually the guests? Most people would answer living room. However, a calm day with a hint of summer breeze is too good to miss. So why don't you have a chat while enjoying the view and sitting comfortably under porch shade? Make things even more exciting by setting up some decorations!
Read also: How to Decorate Front Porch for Fall?
1. Classic Porch Setting
If you don't want to stray too far from the ordinary look, then try classic porch setting. It has what many people put in standard living room: a sofa and two chairs. One special feature of classic tone is pastel brown and ivory tone. It will be even better if sofa and chair color is just around the saturation.
Want to pop in some colors? Then choose colorful or patterned cushion. A small pot of bright colored flower on top of coffee table will also help. Combining these two would never be too much. Finish everything with a soft-colored rug, providing cuddly feel to guests' feet.
2. Porch and Loveseat
Putting sofa often leaves odd spaces. Also, one sofa for two persons is too big, but fitting three would be too much. Those who want to squeeze in more decorations in porch area could take loveseat option. It is smaller than sofa but still fit two persons.
Best additional item for loveseat is either flowers or lush plants. To fill porch corner, you could put a pot of medium sized flowers. If all porch spaces are full of items, then symmetrical plants next to the stairs will help. Don't forget to add long curtain. Sun blasting directly to guests' face or eyes won't be nice, right?
3. Porch Corner
Not all porches is spacious, but it never means that the house cannot have a nice corner. Take two sofas to sit with guests. On top of everything, setting them face to face is not an option. Put them side to side, fitting the corner of porch. Instead of feeling stuffy, you will get intimate porch corner. Don't forget to put coffee table in front of these sofas.
Playing with saturation colors might not work for corner sofa. Try something different by contrasting the tone. For instance, put dark colored rug on top of wooden floor. Then pick sofa of similar color. Brighten up the atmosphere with some pretty or even playful cushions.
4. Sectional Porch
Take a closer look at any porch area, especially in big house. There are usually two wings: the left and right sides. Each wing then has its own pillar. This structure could be used to divide porch into several sections. For smaller setting in each section, avoid using big sofas! Best option would be single chairs.
What is the easiest yet fancy decoration for sectional porch? It is no other than vintage style. Try to put old disc and music materials on one section, and old advertisement pamphlet on another side. There are bunch of vintage ideas you could try! Go and put whatever suits your taste.
5. Quaint Charm
Being quaint is more or less the combination of being pretty and oldies. Key point of this decoration is picking what our grandparents like to have in their young days. Some of them will include chaise lounge chair on the porch and carnation flower vase. Do think old when choosing colors. Bright tones were not around, so make sure to choose either pastel or dark tones.
Those who want to go a little wild could always add wooden table or ceramic wall decorations. Thinking about going all out? Then try to match the tone and frame of balustrade, window and main door. Of course, you will have to dig a little bit deeper into your wallet.
6. Circle Porch Seating
There is no better way to divide equal attention to guests than the circle seating arrangement. Take this idea and apply it to your porch. Put sofas or chairs so they make perfect round. Choose oval or round coffee table to compliment the style. Make sure you give enough space between chairs, so the guests could walk through them.
For decoration, add some greens on the corner and a nice potted flower as centerpiece. Since guest might come either day or night, it is always good idea to install decorative lamp. Most practical one is dome light fixture; it is simple and bright. If you want something with a little more flair, then take pendant fixture. There are tons of models to choose!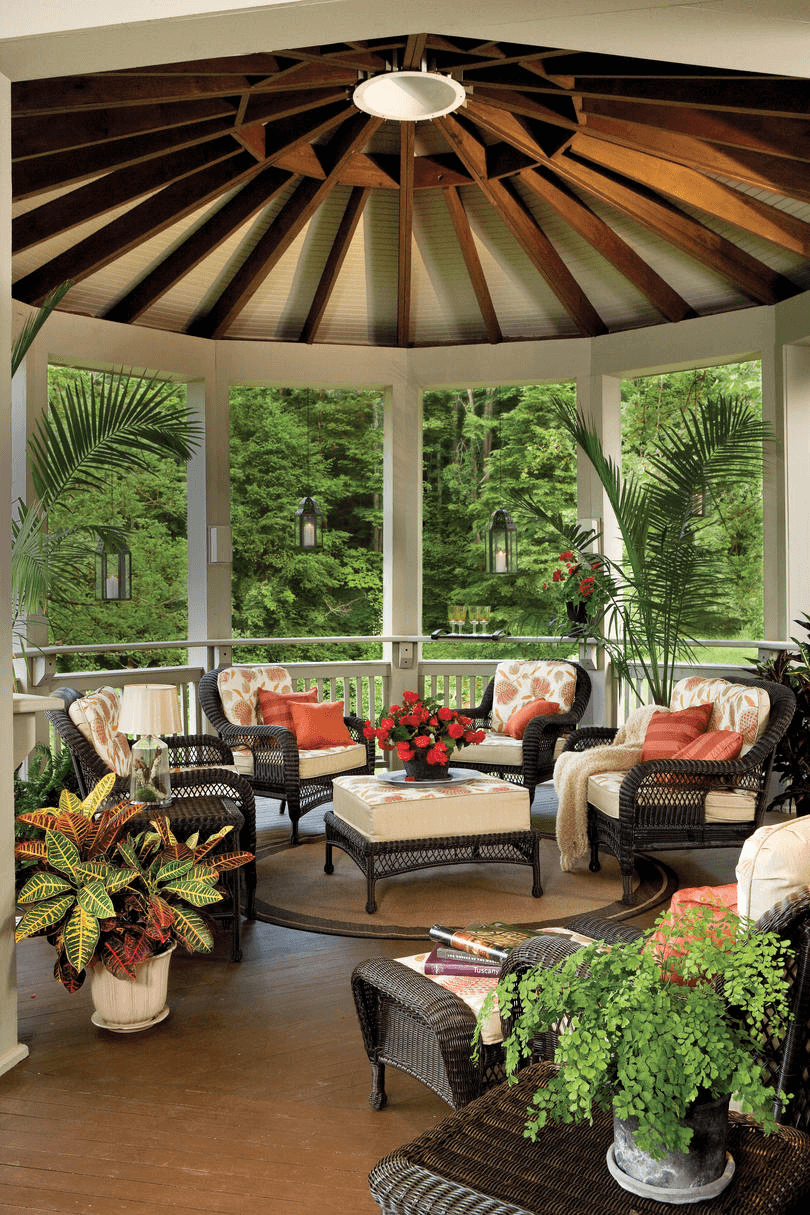 7. Entertaining Porch
Not all porches are merely used to hang around while sipping a glass of tea or coffee. Some porch arrangement is sketched so that guests could chat together and having their meal. The furniture for this setting doesn't have to be extravagant. Put a dining table for eight, then put quirky table top or lay down a matching cover.
Another way to be playful in entertaining porch is hanging sweet or odd pendant lamp. One more thing: don't forget to install glass frame on the other side of the porch. You don't want entertaining porch to get drenched when rain falls or be full of brown leaves during fall season.
8. Porch and Swing
Who says that porch is no place for swing? As long as you feel like it, just go for it! Spending all afternoon on a swing would be the dream of many. Chatting with close friends or relative would be another item in to-do list.
Swing is quite heavy and not all ceiling is made to take the weight. It is important to consult home decoration experts before installing the swing. If there are precautions to take, then do it. You don't want bad things happen when you make sitting on swing a habit.
9. Colorful Pair of Chair
If house visit is exclusively for families and closest friends, then there is no need to provide wide space on the porch. A pair of chairs and a round table would be enough. Allow some empty spaces, just in case the children will go back and forth. Don't forget to install balustrade and some lovely pots attached to it. Plant colorful flowers and lift up the mood.
This simple setting will be more beautiful with decorative chairs. Make sure these chairs are not attached to the ground. It would be much more comfortable if the setting could be moved to different spots. Add some vintage lanterns for romantic vibe!