When summer comes, all we want to enjoy is the outdoor breeze, the view, and all pleasant things only summer can give. This is also the time when porch is needed and used the most. To make it even more comfortable and pleasing, you can try to decorate your porch with one of these most popular shabby chic porch décor ideas.
Read also: Best Door Porch Design and Decor Ideas.
1. Brave Colors on Bright Flower Prints
This porch features a set of dining table with four seats in a red porch and old times tiles in earth tone. While its' brightness is bold, the flower printed table cloth, the hammock, and its entire combination of antique shelf and the dining table soften it.
2. The Pastel Stripes Porch
This modern house allows the residents to sit back and relax or swim with a close access to the porch. The porch features a U-shape sofa in minimalist and modern design. The chic touch is on the sofa pillows and seats that are covered with pastel colored linen. Single color and stripes match well here.
3. Little Farmhouse Porch
This small porch looks totally cozy and inviting. The wall is decorated with reclaimed window frame in pastel blue, which is soft and cooling. Right in front of it, there is a love seat completed with blanket in soft color and all the puffy pillows. It's just perfect and so chic.
4. Beach House Style Porch
This porch is a prove that you don't need many stuffs to create a shabby chic porch. Set up a reclaimed writing table and paint the surface matching to the two beach folding seats. Choose a soft color and some green touch, and you are ready.
5. Comfy Porch in Chic Touch
This porch combines everything comfortable together, from rustic bed sofa to the rocking chair. Accessorized with earth tone linen soft colors to complete the dark dusty blue of the window frame, it is perfectly chic and comfortable.
6. Summer Bright
This porch has all the right colors that belong to summer. Its clean and bright white wall is enriched with earth tones for the tiles and ceilings. It is all a complete set when grey sofa and white arm chair is decorated with colorful print throw pillows.
7. Cheerful Porch for Summer
This porch features only a chair with the most charming swing painted in pale blue, making it very chic. The look is perfect, a combination of careful selection and inviting feeling, featuring throw pillows in different bright colors and flower printing.
8. Romantic in White
This porch is nothing but sweet and elegant at the same time. You should love the chandelier and huge white pillows on the bench. However, it is the potted white flowers that make it a perfect porch.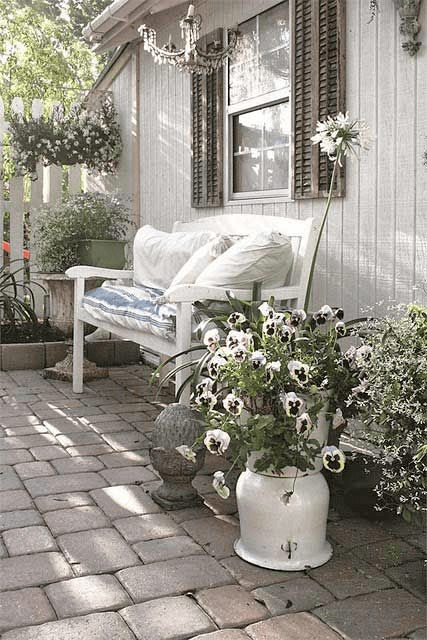 9. Delicate and Intricate
This porch features only a tea table with only two chairs for seating option. There is nothing special on selection of the furniture. But the linen is extraordinary. Flower printing table cloth and stripes pillow cover make the most chic combination here.
10. Create a Chic Corner
This corner is made of a whitewashed counter with a few potted plants to soften the look. The mirror is framed with woven material, which makes it a balance for the entire of the setting.
11. Use the Unused the Right Way
This porch has an attractive corner, in which a rusty unused chair is painted in white as a stand for the bucket of wild flowers. Nothing expensive is here but it totally looks sophisticated with the whitewashed jug.
12. Bring a Tea Cart
A tea cart is what you need for a shabby chic porch. Choose one with the most delicate design for the cart, then add your pastel colored tea set for it. Complete it with an arrangement of flowers and you are done.
13. Choose the Right Wooden Furniture
The key of a winning shabby chic porch lies on its furniture selection. This porch, for example, has the perfect design. Choose wooden, and choose a pretty romantic design on it. Enrich with flowery linen, and it is a designer look.
14. More and More Pillows
Look at this porch and understand how it reaches the ultimate shabby chic look. You need to throw more and more pillows. The more the merrier. Choose flower prints and soft colors for the linen and you are good to go.
15. The French Style
This is probably the easiest way to go when it comes to decorating in shabby chic style. Paint your porch in pale blue and combine it with white and plants. For best looking porch, use French style tea table and chairs. It's totally chic!
16. Distressed Table
Every shabby chic porch is going to need this. Choose a wooden table in distressed look and wash pastel color on it. This table, for example, makes an ideal look. It is wooden, distressed, and it is well washed in mint.
17. Timeworn and Distressed
This porch is an ideal example of how timeworn and distressed furniture makes the best option for shabby chic porch. Complete it with flowers and more colorful flowers and you just did magic in decorating your porch. Embrace them.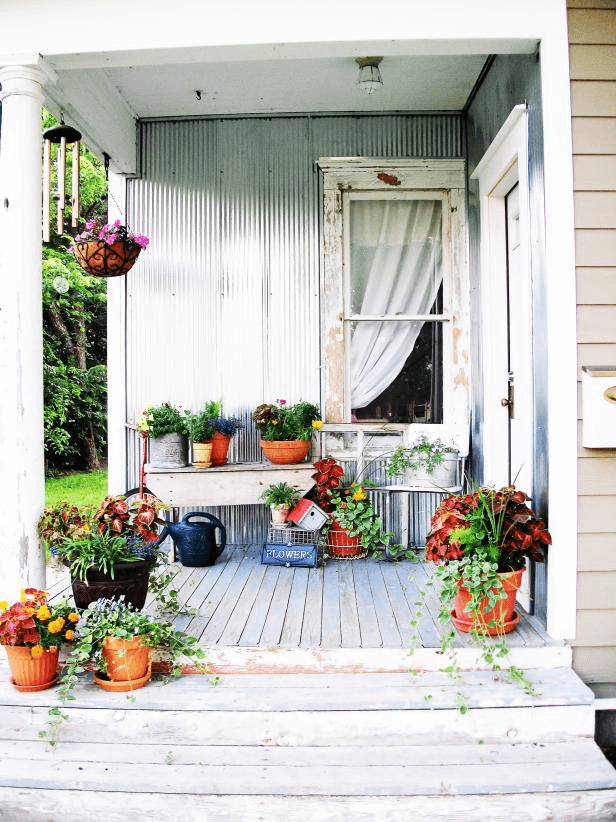 18. In Earth Tone
While most shabby chic porches use pastel or soft colors, you can try something different too. This porch, for example, uses iron day bed alongside the rusty lantern. For sophistication, woven table lamp, and chandelier are added too.
19. Try Shabby Modern
This is how you work shabby chic style in modern design. The porch swing is wooden and it features minimalist and tidy look. The bed on the porch is covered with white, which makes perfect canvas for the colorful throw pillows. Simply chic.
20. Add Several Layers of Style
Add something like this door. It can be taken from your old gardening shed or somewhere else. The layers of paint exposed here create the shabby and rustic look even a designer will be proud of. Lean it on your wall and you are done.