Do you have an old swing on your porch? Don't ever think to throw it away since it will be nostalgic and it will be fun to have a swing on your porch, especially if you have kids. However, it may look dull if you just leave it plain like that. So, you need to know how to decorate and make it safe to use.
Read also: 15 Best Porch Swing Design Ideas for Your Home.
1. Paint it!
The easiest way to make your old swing looks like a brand new thing is to paint it. You can simply just put varnish as the coating paint so you can keep an old look. You can get the old wood look but feel clean because of the varnish.
If a vibrant colour is your choice, then just choose your favorite colour. You can make the swing as a statement of your porch by choosing a different colour from your porch. As an example, if you have white walls in your porch, you can paint the swing yellow or red. You can also paint it rainbow or with galaxy pattern. Your swing will definitely be standing out.
2. Turn it into a Comfy Sofa
Rather than just leave the swing as it is, you can add some comfy pillows so your swing can be a comfy sofa. You can also add some cushioning on the swing so you can sit comfortably. The swing will definitely your comfort spot.
Just as a suggestion, you can add pillows with matching colour with the swing. You can also put the pillow in a different colour. Don't be afraid to choose some patterns to so your swing will not be plain. A pillow with cute shape will do too, especially if you have kids, they will gladly put their plushy there to play with.
3. Add some Plants
Since the swing is placed in a porch, it will great to put some plants around the swing. It is not only great as decoration but they will definitely give you a good environment and of course will brighten your day. They will provide a bunch of fresh air for you so you will feel comfortable while sitting on that swing for hours.
Don't just only put some plants on the pots, you can also hang them down from the ceiling. You can make use of the sling and grow some vines down. It will definitely be a great display for sure, just like having a swing in the middle of the jungle.
4. Turn It Facing Other Direction
You can simply just turn your swing around to face other direction. You can put the swing to face your garden so you can have a good view while swinging around. It will definitely give you a good time and can refresh your mind.
To have a good space in a little porch, you can put the swing in the shortest side. That way you can have a long space to put other furniture or to put your kids' toys. However, you can just leave it empty so you can swing more.
5. Make It into a Bed
Having a good atmosphere on your porch and make you feel lazy? Turn your swing into a cozy bed by putting on the bed and also some pillow. You can also put a blanket on the middle of the swing as an accent and just pull it over if you need it. The feeling will be just like having a nap and a picnic in your own yard.
6. Being Minimalist
Being minimalist is a trend nowadays and you can apply it on remodeling your old swing on your porch. You can repaint the swing on black or white or even grey. Then you can change the sling into a simple rope or chains with dark colour. If you want to reshape the swing, you can give the most minimalist shape you know. Simple square will do well for this minimalist swing.
7. Add a Coffee Table in front or on the side of Swing
To make it more efficient, you can make the swing as your chair for your guests. Just put a small coffee table in front of the swing. If you have kids who tend to swing just like swinging on the park, then it will be a bit dangerous to put the coffee table in front of the swing. Put it on the side will be saved. Like the decoration, you can put a vase on the table.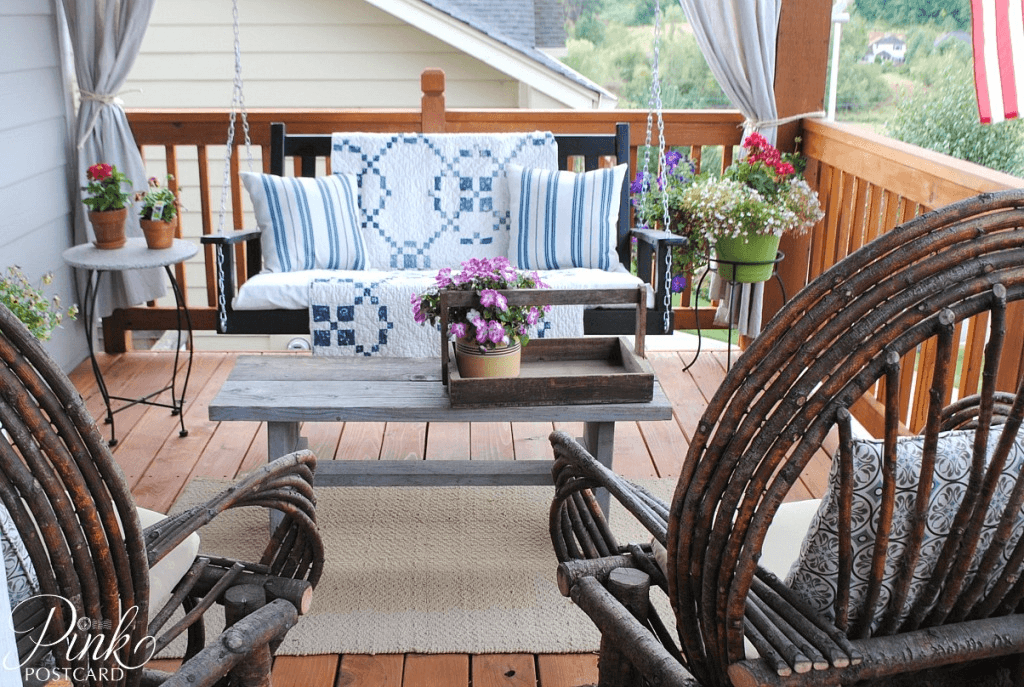 8. Add a carpet
If you want to put something as decoration but won't disturb the movement of the swing, you can just put a carpet below. Add something soft will be good for your foot so you can go barefoot and put your feet on the swing directly. The carpet will definitely be a beautiful decoration under the swing as long as there is a beautiful motif or you can go plain if the swing is already full of colour or has many pillows on it.
9. Add a box as the table on the swing
Want to be more efficient since space is limited? You can do a little bit remodeling with your swing. Add a box on the middle of the swing and it can be functioned as a little table. You can put your glass or book there. It will be more efficient if you make the box in the open-close model. You can close it unless you need it.
10. Just Left It as Simple as That
Being old is not a mistake. Your old swing scan still is a standout point and you will have a rustic vibe from it. However, you still need to pay attention to safety. You need to change the sling or fix the broken wood so you can sit and swing safely and comfortably.
Which way do you want to do for your old swing? Be as creative as you can and create your unique swing. Then you can enjoy the view and get your mind refreshed for sure. What are you waiting for? Get your tools ready and start fixing!