It is hard to believe how a simple renovation project could bring a lot of differences. You have to see it for yourself and thoroughly compare its looks and function. There are tons of fun ideas to try or your makeover project!
1. Unpolished To Polished Charm
Before
Believe it or not, porch is often forgotten or placed as last priority. No wonder, many porches are left unfinished and then decorated with whatever items owners could grab. Even some steps are not covered properly and the flower beds are filled with national flag. Sure enough, no one would be pleased to see this kind of front porch.
Look at those walls. Half of them is well covered, while bricks on another wall are not covered yet. If this was an attempt to make artistic look, it was definitely a big failure. The only thing that could save this porch is the carved door. Unfortunately, the other elements are not balanced or well enough.
After
This is a total makeover. None of the element from previous setting is included. Take a look at the floor. Instead of uneven mortar, quality stones are installed. Black is chosen to highlight urban chic concept. Next project is working on walls. Previously, it was bricks and mortar. Now it is has wood texture and painted black. Instead of solid black, greyish black is chosen.
Door is the heart of front porch. Since walls and steps have been painted with blackish tone, there should be bright color for the door. Thus, yellow is chosen. Some other yellow items to put on porch are chairs, small table and small pillow. Blend them well with black and white theme; monochrome stripes pillow on chair and checkerboard wreath on door.
2. Textured To Plain
Before
Once, textured surface was a hit. Tons of people are copying this model. Some popular items include bricks, arched decoration and flowery wreath. It is true that textured surface gives unique look. However, not everyone could make good combination without consulting a house designer. Putting together what house owner likes usually create unbalanced components.
Brick walls in this porch has at least three visible colors: dark red, orange and brown. Actually, it goes well with the dark colored lantern. Sadly, house owner choose to contrast it with white door frame and wreath. It goes even messier with pastel blue door and white lantern hanger under the wood board of house number. Adding half moon decoration near the doorstep completes the mess.
After
After removing the wreath, it  appears that the door already has beautiful glass. In order to accentuate this glass, the door is repainted with soft grey color. There is nothing changed from the door frame and hanging lantern. Big problem of previous textured porch is the wall. Repainting it with white color gives opposite vibes; calm and elegant.
Throw away the decoration near the doorstep. To replace it, install diagonal ceramics floor. Make sure to choose some pattern with grey tone. Now, there is one more element to add on the porch: wood. Cover the existing pillars with wooden materials. Finish this pretty plain look with a pair of potted plants next to each pillar.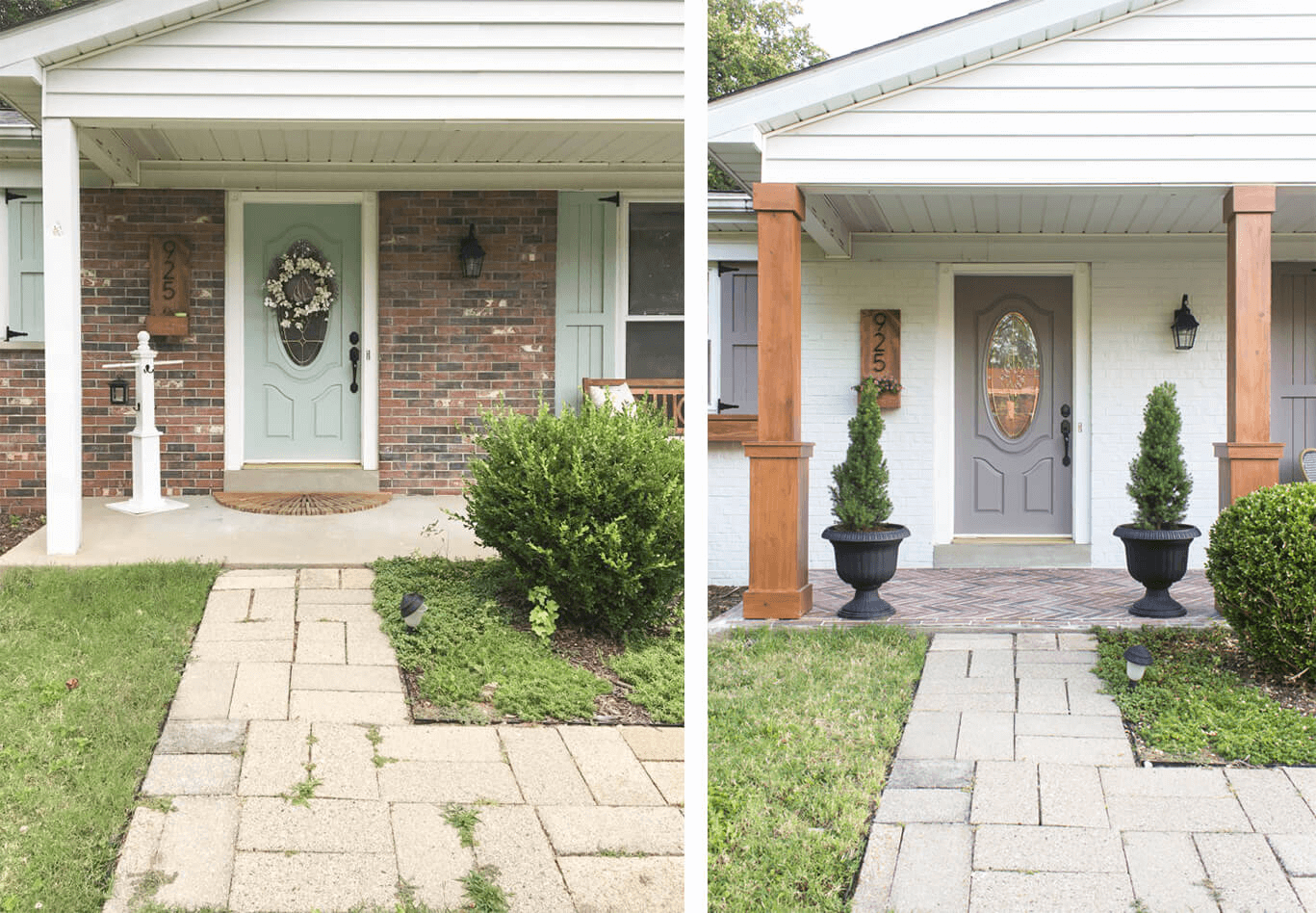 3. Dry To Well-Hydrated
Before
In a glimpse, there is nothing wrong with this porch. Every thing is perfectly in order. Brick walls on the bottom is painted beautifully. House owners even highlight these bricks with white paint. Any other elements; pillar, wall, and under roof are painted white as well. Both wall and floor are arranged from wood, all cuts have similar size.
For decoration, there is a pair of chairs on the porch. In between, house owners put a coffee table. Unfortunately it is not used to serve a cup of tea and biscuits. Two big sized pots are sitting on top of it, without any flower or plants. Another decoration is a string of lighting, which will set calming atmosphere in the evening.
After
There is nothing much to add to this porch setting. Most of the items are still intact: the walls, floor, pillar, chairs, and even the decoration. House owner doesn't have to repaint any of them. To make it more alive, house owners need some green. It is the only flaw from the previous setting. Hang some green plants in between the lights. Put one in between each pillar for easier guide.
Next, house owner needs to work on the lawn. Previously, it is just land with uneven grass distribution. It would be a lot more better with green lawn. Make sure to cut it regularly, otherwise these grass plants might grow higher and block the brick base. House owner could also repaint all chairs to get fresher look.
4. Classic To Modern Charm
Before
Remember those old house from around 70's? Even though it is great to have this house as it is, renovating front porch might will give modern vibes. Typical old house has doors for car garage, often fit for more than one. There is a pavement to walk from the garage to the front door. Windows are symmetrical, most of the time they has girds inside the glass.
Since old houses were build on huge land, there is rarely two stories building. Also, there are lots of trees and huge lawn. There is no potted plants and no flowers. If house owners want some flowers, they will have flower bed instead.
After
After renovation, the trace of old building can no longer be found. To replace the tilted land, new house has steps to reach the front door. It is decorated with several small potted flowers. Each has different color. On the porch area, guests could see pillars and ballustrade. It gives off elegant vibe, especially because both are painted with white.
Guests could enjoy the garden by sitting on wooden chair. Windows of this renovated porch is quite lovely. Instead of installing symmetrical windows, take the arched windows. For the door, choose the classic brown type.
On the ceiling, there are white rounded lamps. The roof will be higher if house owner chooses to have two stories building. To compliment the arched windows on the bottom, the top windows should use similar product. Want to keep the old school vibe? Install grids behind the glass window.