Who says small houses can be nothing other than saving space? It is the face of modern housing, and all houses deserve to look as good as it could be. Having small houses shouldn't be the reason to give up on decoration, especially on porch! You only need some ideas to start with.
Read also: How to Decorate Porch with Plants and Flowers?
1. Colorful Glass Overlay
Color is the easiest way to fill space in a tiny house. Since painting is too common and require regular maintenance, what about installing glass overlay? Go to the store and pick the pattern you like, Don't worry about mix matching; one pattern fits well to small porch setting.
2. Small Flower Pots
Several tiny house owners are so fond of chic color such as black. To make your porch a little bit lovelier, try to put some pots near the entrance and next to doorstep. Choose bright colored flowers and make sure you pick flower with small petals.  Flower with big petals will occupy too much space.
3. Downsizing Front Porch
If your house has limited space, the only way to make more spaces is building second floor. In this case, you could copy a downsizing model from normal size front porch. This model fits well to two stories house with windows. On the porch, you have some other windows and soft colored door.
4. Ballustrade
Another way to make your small porch prettier is by installing ballustrade. Opt for shorter ballustrade if your house is not too high. Make sure not to put any barrier to the entrance. Pair this look with white base or white dominant paint. Otherwise, it will be too extravagant.
5. Bright Contrast
Those who love colors will not be satisfied with humble color like pastel or any other soft tones. They want something bold and strong, even for their porch. Here is an idea to match several bright color in one small space. Yellow is for the door, dark teal for walls, white for window and red for the house number.
6. Arch Door
Do you want something fresh and cute on your entrance? What about an arched door? It has chic style and makes everyone turns their head to look. Paint it with ocean blue or sky blue. If you plan to have screening, bend it to match your door. Complete the look with swirling plants on each door's side.
7. Light And Steps
People who live in small house sometimes like to impress their guests with practical items. Decoration should be something they could use rather than just sit on the table. If you agree with this idea, build some steps to your entrance. Then add warm lights on the ceiling to light up the atmosphere.
8. Fake Doors
Want to be a little bit playful with the details? There is one option you could take. You might need to go to thrift store and bring home double door. No, it won't be installed to your entrance door. It will be attached or glued next to the real door.
9. Symmetrical
Being small doesn't mean you have to skip windows. Have them the way you want it, even if the windows have to be square. In fact, these windows will make great component for symmetrical look. Make sure the windows are half of door's length.
10. Fancy Party
You just finished painting whole porch with one color when you realize they look dull. Don't worry, pal! There are ways to make it livelier. Pick two main colors for the porch and collect items of those colors. For a start, you could take curtain, pillow, some yarn balls and lights.
11. Brick And Ceramics
Playing with contour and pattern is not too difficult! Brick and ceramics are good pairing to make chic but bold look. Install red brick for walls. Make sure it goes all the way up, not only half of the building. Choose ceramic pattern with contrast color and put it on the foot steps.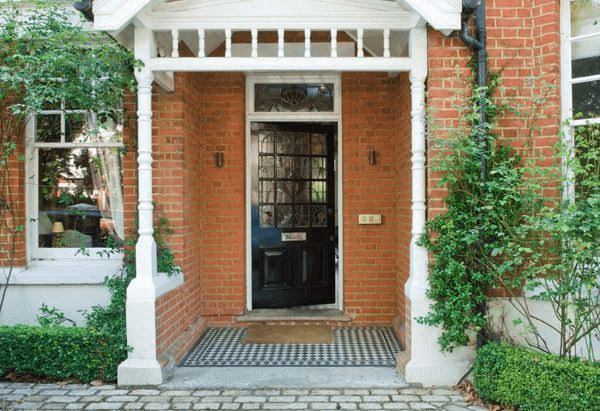 12. Fall Concept
Some small houses are built horizontally instead of vertically. For this reasons, you might have L shaped porch. There is a way to make guests impressed by your setting. Hang some used clothes with orange hue color on the stair. Then also add some fall items to the porch. Let them enjoy fall display before knocking on your door.
13. Checkerboard
This is one everlasting concept that anyone cannot get bored of. Checkerboard has simple yet ubique attraction to those who see it. Take this chance to show your checkerboard style. If installing symmetrical checkerboard is too common, try to tilt it to certain angle.  
14. Wreath
Since you are dealing with limited space, you often have to give up widows. If they have one, it is that one fixed window you cannot open at day. Make things merrier with a wreath. It could be changed every season. If you want to make it as center piece, paint the door with dark tone.  
15. Unique Piece
Think about one item that will make your small porch more outstanding than the others. It could be the door frame, house number or even favorite initial. Take one of them and make a really special piece for display.  A little tips for you: pick a color that is not present on your porch.
16. Big Glass
Remember how articles often mention to put on mirror to make small room look bigger? Why don't try this concept on small porch, too? Install big and transparent glass on the door. Don't forget to hang the curtain for decoration.
17. Color Theme
Pick one favorite color and find its decorative items. Then arrange them near the entrance and on the door. Make sure to put the tallest on the outer side and the shortest in the inner side.  
18. Frozen Door
What comes to your mind when you hear the word frozen? It is probably teal, white, snow, or even lantern. Put them all together to create a cool front porch. Paint door frame and door with teal color. Hang white wreath on the door and lantern lamp on the ceiling.