Spring and summer are the ideal time to host a party. If you have a nice space in your porch either front or backyard, you could use it as an outdoor party. Whether you will hire a party decorator, or you plan to decorate it by yourself, here is some inspirations porch decoration for a party.
Read also: 20 Most Popular Ideas for Shabby Chic Porch Decor.
1. Put A Wreath in Your Front Door
If you want to impress your guests when they want to come inside your house, here is a simple design that you can do. You can hang a summer theme wreath in the front door. This wreath is easy to made and there are plenty of instructions available online that you can follow. Choose a vibrant color such as lavender or hydrangea. Combine it with pretty ribbon with a colorful pattern.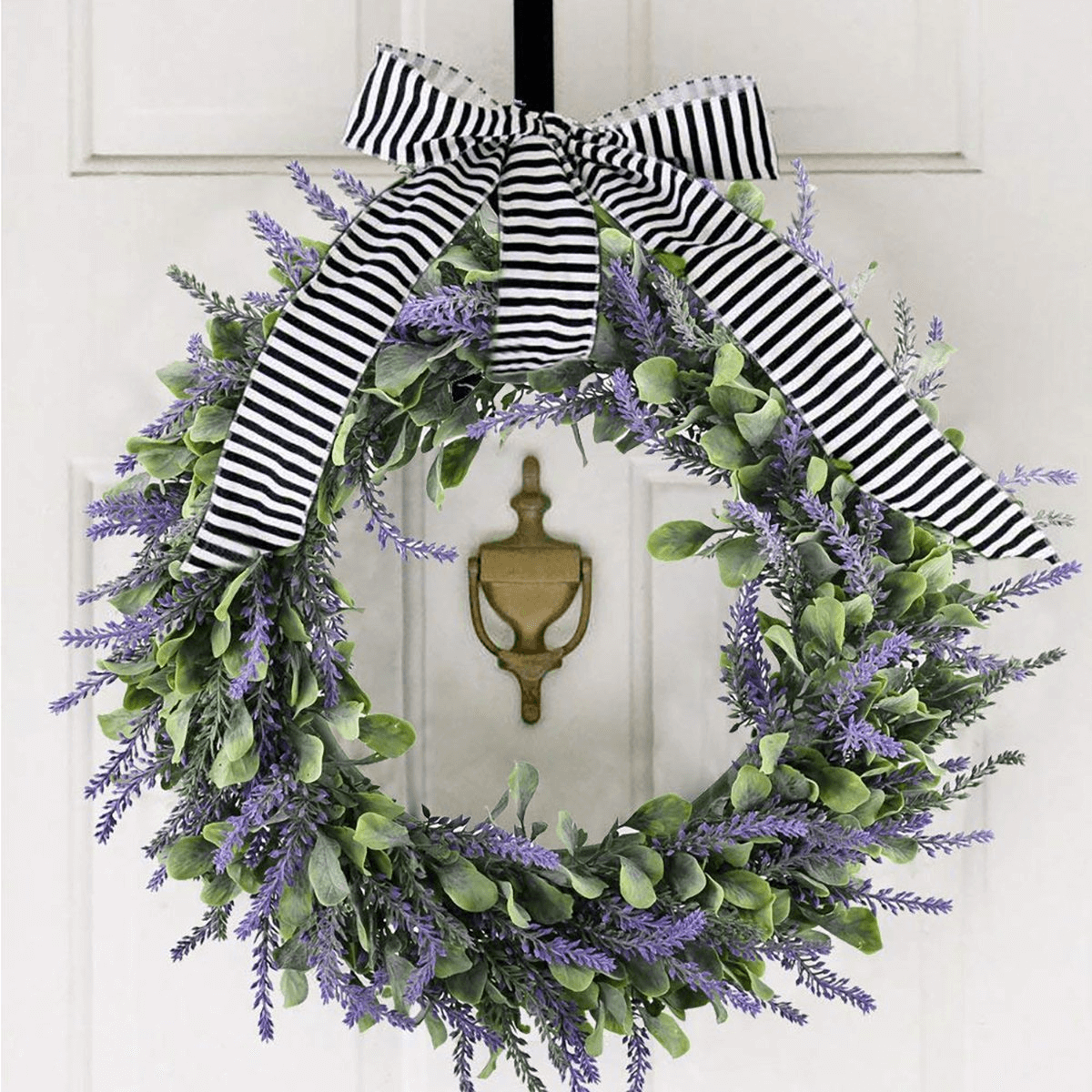 2. Vintage Bar Station
If you are a fan of vintage furniture, you can use it as part of your party decoration. Have your vintage table as a bar station, put a straw or neutral color runner and display your favorite beverages on this vintage table. You also can add an extra table and put a vintage bucket filled with ice for cooling the beverage.
3. Picnic Set-Up
If you have a casual summer party, you can take a look at this décor idea. In the yard, you can put a picnic mat with floor pillows. Serve your cold beverages with a wheelbarrow and you can display finger snacks and food on the table on your porch.
4. Simple Décor with Fabric Banners
If you host a casual lunch party, you can do simple decors by using colorful triangle banners and on the table, put a runner and decorate it with fresh flowers that you took from the garden. Put colorful pillows to add a more fun look.
5. White, Blue and Yellow Theme
When you want to play around with colors for your party, remember to mix it only with three colors and not more than that. Having too many colors could make your decoration looks tacky. This design consists of white, blue and yellow as the theme colors. you can mix these three colors for the pillowcases, paper pompoms, balloons and to other small details such as plates, napkins, and food decoration.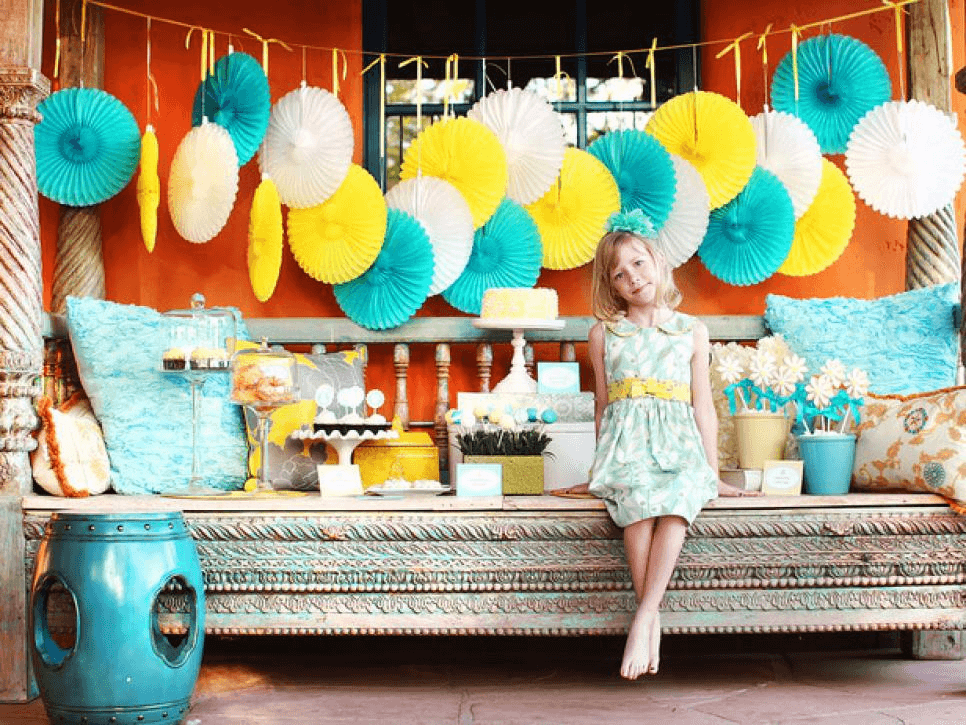 6. Small & Intimate Party
If you have a small and intimate party, you use the existing set up of your porch and add twinkle lights and curtains for a cozy night. This design used navy, grey and white colors as the main theme. Put pillowcases with these colors, add a blanket because it will get colder in the evening and put a candle to add more ambience.
7. Rustic Signboard
This signboard is easy to make especially if you have a good painting skill, but you also can buy it easily online. This signboard is nice as a warm welcome gesture for your guests. You can put this in the porch fence or hang it as part of your wall decoration.
8. Hanging Flowers
Hanging flowers could add spring vibes to your porch party. Put different sizes of hanging flowers on your porch and have a small rack filled with potted flowers and plants. White and blue themes for pillow, cushion and carpet match with the overall decoration.
9. Vintage Birdcage
If you have an old birdcage, you can use it to decorate your porch party. Fill an old birdcage with fresh miniature bouquets and faux bird for decoration. You can use these miniature bouquets for departure gift when the guests leave the party.
10. Extravagant Flower Centerpiece
Use vibrant flowers such as lupines, lilacs, garden roses and peonies for your flower centerpiece. You can use a china pot for the case for something extraordinary. This flower arrangement definitely will get the attention of your guests.
11. Galvanized Buckets
You can use small galvanized buckets and filled it with red gerbera daisies for your fence decoration. The bright red colour of gerbera daisies will make a nice touch of your decoration. Hang this flower bucket with a polka-dot red ribbon.
12. Keep Cozy with Blankets
Spring could be still cold during the night; therefore, you can set up a folding table with a wheel so you can move it around and put a pile of blankets so your guests can take it when they feel cold. Add an oil lantern and a chalkboard as part of the decoration.

13. Red chairs and Plants in Tin Buckets
Red colors give a more vibrant setting and you can combine this with any neutral colors. Set up a wooden table in its natural color and combine it with rustic style red chairs. Because the chairs already give a bold statement, you can tone it down with green plants that you put in tin buckets. Last touch, decorate the wooden ceiling with twinkle lights.
14. Long Table Buffet
If you don't have any long table in your house, you could combine small tables, or you can do this trick. Use a long piece of plywood and use sawhorses as the leg table. Please note that the sawhorses should be even and choose thick plywood, so you have a steady buffet table. Cover this DIY table with nice fabric and you can use it as your serving station.
15. Gifts Table
If you plan to have small gifts to give to guests when they leave the party, you can display the gifts and use it as part of your porch party decoration. Set up a table and cover it with bright color fabric. You can choose small gifts such as these scented candles or aromatic bath bombs. Decorate the table with flower centerpieces in several sizes.
16. Plants and Lanterns
Lanterns are the perfect decoration that you can put for your porch party. Choose different sizes of metal lanterns, you can put either LED candles or the real candles inside of these lanterns. Put flower petals inside of the lanterns for a romantic evening.
If you love gardening, you can put several potted plants around your porch for natural decoration. Choose plants that have flowers in vibrant colors such as this bougainvillea. Use an earthy color terracotta pot will draw attention to the flowers.