Having a porch swing can be very heavenly for you because you can spend your entire summer there doing everything you love, like reading books, hanging out with friends, or just sleeping there and enjoying the summer breeze.
It might seem hard to build your own porch swing, but it doesn't mean that you can't. Plus, it is perfectly inexpensive compared to when you buy the one that is already made.
By making it yourself, not only will you save more money, but you are also able to customize the size of the swing. Here are some easy tutorials for you and some design ideas you can try out.
DIY Porch Swing
To make your own porch swing, you will need to gather all of the materials. You don't need to worry because all of the materials used here can be found easily and you can start making the porch swing in no time. Let's start with the materials first, these are what you need:
Pine Woods: (1) 4x4x8ft, (2) 2x6x8ft, (7) 2x4x8ft, (3) 1x6x8ft, (4) 1x4x8ft
Braid nailer
4", 3", and 2" wood screws
Water-based polyurethane
4 stainless eye bolts
Wood stain
1" rope
After you have gathered all of the materials, you can start making the porch swing.
Start by making the base frame by laying out the 2×4. Drill every corner of the frame with 4" screws. Attach the 1×6 base with a brad nailer or you can also screw them together with 2" screws.
Use the 4×4 to make corner posts and install them using 4" screws. Use 2×4 to make the back of the swing and, drill and screw them together from the inside part of the frame.
Use 2×4 take 4 cross frames like in the picture. But, if you find it difficult to install, you can make the vertical frame for the porch swing.
After you are done with the frame, you can start to soften the edge by using the router. After that, make two armrests using the 2×6. Then, place the armrests on top of the 4×4 post and drill them together with 4" screws. You will also need to drill and screw the back of the armrests with two 4" screws. On the top of the backrest, install the 2×6 using 4"s screws.
Make the slats that will hold the mattress by cutting two 1×2. Install the eye bolts at the bottom of the 4×4 corner posts.
Apply several coats of Polyurethane to protect the woods. After the stain dries out, you can hang the porch swing using the 1" rope and rope clamps.
Porch Swing Ideas
The tutorial above is the basic pattern of the porch swing you can make at home. But actually, you can make your own porch swing with different patterns. Here are some unique porch swing ideas you can try to build.
1. Farmhouse Porch Swing
If your house is decorated with a farmhouse theme, you will need to make the porch swing that will go well with the theme, like this farmhouse porch swing. This porch swing is very easy to make, especially if you happen to have an old bench in your house.
If you don't have one, you don't need to worry because you can easily purchase the used one for cheap. Then, you will need to cut the legs of the bench and stain the woods. After that, you can hang the porch swing using ropes or chains.
2. Bed Frame Porch Swing
Summer will be the best time to laze around on your bed. But you can also do well on this bed frame porch swing because it literally looks like a bed frame.
This porch swing might look very hard to make, but you don't need to worry because you can always buy the corner posts on home depot and all you need to do is to assemble them together.
Then, you can install the rope and leave out some inches as decorations. If you want to add some rustic touch, you can leave the woods as they are to make the natural color stand out.
3. Simple Porch Swing
If you are new to the DIY woodworking project, making the porch swing can be very hard. But, you don't need to worry because you can make the simplest one like this porch swing.
The pattern is not that complicated and you just need to screw the woods together. Then, you can begin attaching the chains or ropes, and you can have your own porch swing. Plus, this simple porch swing can go with any kind of exterior design and you can style it as you want.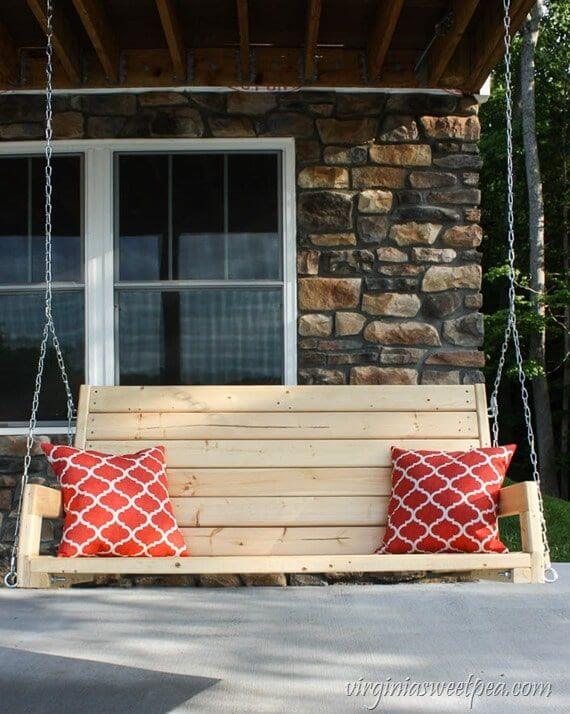 4. Bright White Porch Swing
Summer is identical with bright color and painting your porch swing white will help you express the spirit of the summertime. The white-colored porch swing will be the focal point of your porch, but at the same time, it will make the other colors stand out.
You can make it happen by laying some bright-colored pillows or you are free to style it because it can go well with anything. This porch swing will be perfect if you don't have a knack for designing the house.
5. 2 in 1 Pergola Swing
Sometimes, you might want to chill out in your garden, but it will be too hot if you don't have a shade or a comfortable place to sit. You don't need to worry anymore because you can have shade and a comfortable space in the middle of your garden by making this pergola swing. This DIY project may be a little too hard for beginners, but the outcome will be very rewarding.
This pergola swing can be moved easily so that you can have it in your garden or you can store it on your porch. Plus, you can decorate the swing easily. You can have a relaxing summertime here and do anything you like, like reading a book or enjoying a cup of tea in the afternoon, without being too exposed to the sun.