Solar light for the porch is one of the greatest ideas there is. It doesn't need an outlet that is beyond reach, and it is far more environmentally friendly for having alternative sources of energy. It makes a decent illumination option during the evening and night, and they come in cool designs today.
1. The Lantern
If you like this kind of design, there is also lantern solar light available. You can DIY it, and you can purchase it on several stores with reputable names. This one features industrial look, which is perfect for rustic and modern porches. Simply put them on your path walk or hang on the wall, and you have dimming illumination for the porch.
2. Twigs and Trunks
This light is totally a great DIY project product. It looks rustic, and it will make a nice addition for a nice little farmhouse style house. The wooden base adds the rustic style, while the stand and lamps above it is very decorative and popping out. If you want to set it on the floor near the entrance, that is fine too.
3. Industrial Lamp
This hanging lamp makes a great addition to any house that uses medieval or industrial style on the porch. While it provides a great range of illumination for the area, it also enriches the decoration of the space. You can create this lamp by yourself, but you will be surprised that many similar items are offered with high price on stores.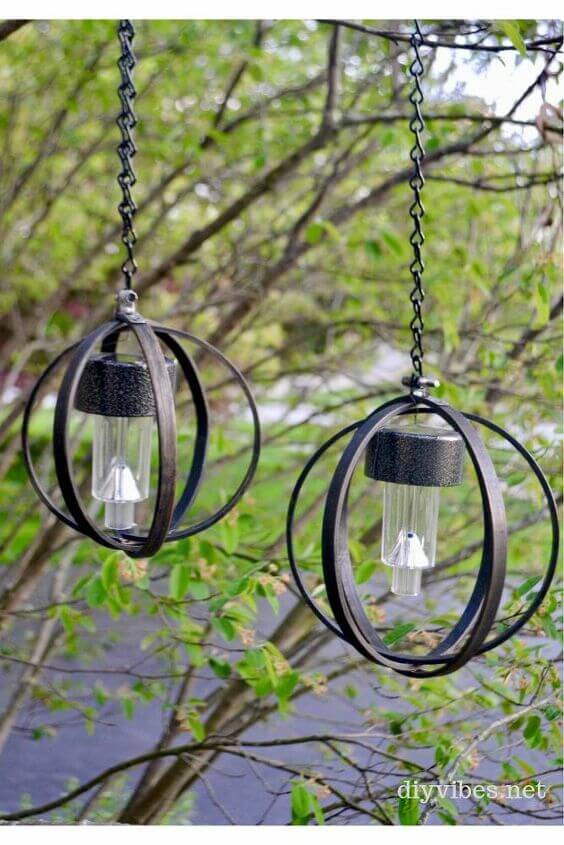 4. Tower Lantern
This tower lantern is an excellent option to light up your porch path. It gives some kind of border for the grass beside it so your guests won't step on it, while the Moroccan styled lantern actually gives a definition to your landscape. At night, it will gives enough light into the area while it actually makes it more welcoming and more romantic.
5. Mini Mushroom
How cute! These little mushroom lights are ideal if you have bushes and grass on your porch. While it gives dimming and warm atmosphere for the area, it actually creates a kind spectacle for you and your guests. Your porch and garden will look idyllic that children will expect to see fairy suddenly appears beneath the bushes.
6. Farmhouse Pendant
Simple pendant like this is always a great addition to your porch. The rope makes a rustic styling for the entire light. The simple design of the cap and bulb makes it a total match for a farm house style porch. Iron or metal cap will be ideal, but you can cover any material of the cap with black paint for alternative.
7. Crackle Glass
This little globe shaped light contains a few LED lights inside which will create dimming light in to your porch. The lights string will create cracking look on the globe, which is unique as well as fantastic in a matter of the decoration side. Being in stake, it will naturally pop out between the columns, fences, or plants.
8. Planter Light
This planter has double function, and it should be a great option when you want something functional and decorative at the same time. While it functions as planter, it obviously gives illumination to your porch while it elevates the décor on the area as well. There are more shapes for this light, including bigger planter in ball shape and more.
9. Starburst Light
These stake lamps are named just as how they look like. These lamps look incredible, and it should give more than enough lighting to your porch and path way. While it illuminates enough, its shape is very festive and decorative, which means you can use it for decoration on special occasions too. These lamps are favorite on younger generation porches and patios.
10. Solar Chandelier
Bringing out the chandelier to the porch is never a sin. Actually with proper styling, it elevates the porch look. This solar light takes shape of chandelier. Finished in white paint, this light keeps its elegant without being too heavy, and it is modern and chic enough to be in the porch for more casual gatherings. You can repaint it in pastels for even more cheerful touch.
11. Bear Lantern
The lantern offers unique look and design. While bear and tree cutouts decorate the light, it gets mesh background as well surrounding the LED solar lights. It is rustic and industrial with a little touch of whimsical feeling on it. This should make a nice porch light for a modern house with rustic décor and kids! Very decorative and very adorable.
12. Rainbow Mason Jar Lights
Mason jar is not a surprise anymore when it comes to lighting and fixtures. However, this solar porch light has a little twist on it. On the bottom of the jar, there are different colors offered from red to green, infusing colorful and cheerful feeling on your porch. While it is entirely functional, it looks festive and is easy to make by yourself too.
13. The Torch Lights
If you want something different for your porch, this is a great option. While it can be added alongside your porch column or in any corner you like, it can be an excellent light for your pathway. It has the modern taste given to the design and material, but it truly has tribal touch on it as well. Very attractive.
14. Square Sconce
This is more like a lantern, but with firmer design and bolder style. This solar porch light will provide enough brightness on the space while it actually enriches the house style as well. Add it on the side of windows or framing the door, this will make a nice statement of decoration while it illuminates the room too.
15. Black Deck Post Light
You need to attach this light on your porch deck. Each post should be bright enough for a smaller area of your porch. It is practical, easy to use and to set, and it elevates the decoration of your porch. The better news, it is available on more styles and designs to match your house theme.