Screened porch is actually a special combination of indoor and outdoor architecture packed in a form of comfortable space. It protects you and your family from several elements while it allows you to enjoy the outdoors at the same time.
For it to be well functioned, a perfect flooring is important. You need tough floor against outdoor element while you also need the attractive look. What are the options? Here are the best flooring options for screened porches.
Read also: FRONT PORCH DECOR ON A BUDGET IDEAS.
1. Composite Decking
This is a very popular option today. It is actually a combination of mostly capstock composite and wooden look on the outer layer. It allows us the beauty of wooden floor without the complicated maintenance we must do.
It gives solid floor for the porch both outdoor and indoor and it looks totally beautiful. The more excellent point is it is less expensive than any wooden floor.
Read also: Simple Rustic Front Porch Décor Ideas You Can Try
2. Ipe Floor
This flooring option can be categorized as wooden flooring. Ipe is a hard wood with rather dark complexion. While it looks really beautiful and classy, it is actually a long lasting one too.
With proper maintenance, this flooring can last up to 50 years on the outdoor. Imagine how long it can stand for the screened porch.
See also: STAMPED CONCRETE PATIO IDEAS
3. Travertine Paver
Travertine is made of stone. It has the strength while it exposes natural beauty and color too. It makes an ideal option for screened porch flooring. Plus, it requires only low maintenance and it is easy to clean.
The important point of this flooring is on how essential concrete foundation for it. It keeps it stable and sturdy, and it should fight well against outdoor elements.
Read also: THESE PORCH FLOOR PAINT COLORS TRANSFORM YOUR SPACE EFFORTLESSLY!
4. Concrete Stain
This flooring has pretty look, offering old world looking to your screened porch. More than just a beauty, it also offers strength and resilience. It can be a little expensive but it is worth it.
The best way to use this is on top of an existing concrete floor. It delivers sturdy set up for the floor and it makes an elegant dress up for the concrete.
Read also: HOW TO CLEAN CONCRETE PATIO: TIPS FROM THE EXPERTS
5. Slate Tile
This tile is known for being strong and pretty at the same time. It isn't hard to maintain as well while the installation shouldn't be that hard as well. It instantly adds an elegance.
The best foundation for this flooring option is concrete slab. It makes a rigid foundation that the tile needs. Don't forget to choose on pretty pattern for this tile.
Read also: HOW TO PAINT CONCRETE PORCH FLOOR
6. Pressure Treated Decking
While this particular wooden floor isn't very popular for screened porch, it is actually a fit one. It is sturdy against the outdoor elements. However, you may have bugs crawling right on the gaps.
For best performance, install it on your screened porch and add the screen on the deck and joints. It keeps the bug away while you get the most outdoor taste too.
Related Post: PRACTICAL TIPS TO BUILD A PORCH WITH A ROOFTOP DECK
7. Cypress
Cypress flooring is a very popular option among house owners who don't want to spend a lot of money on masonry flooring. It has beautiful look, which is a completion for the porch, while it is far more affordable.
It is strong enough even for the outdoor, but it should get a proper maintenance regularly. Don't worry. The maintenance shouldn't be expensive.
8. Concrete Pavers
This tile is actually popular for being naturally beautiful while it is actually strong at the same time too. It delivers a real outdoor and casual feeling while it still elegant for the screened porch.
The other great thing about this flooring is that it doesn't need mortar to join each paver. It takes time to install but it elevates the value of your porch.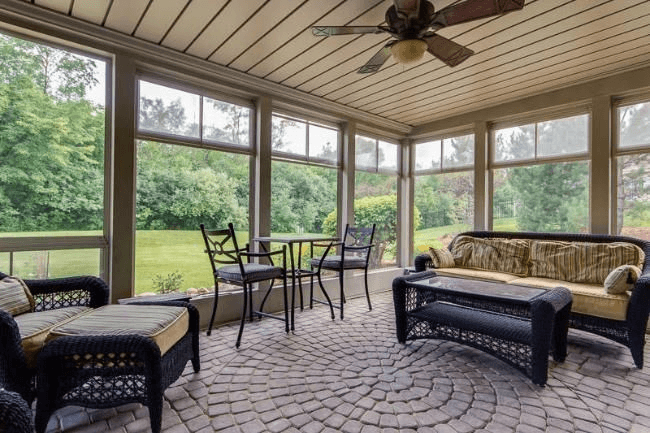 9. Concrete Floor
This flooring is maybe more popular for outdoor porch, but it makes an excellent flooring for a screened porch as well. While it is strong, it is easy to maintain and clean as well. You can read this HOW TO CLEAN CONCRETE PATIO for details.
The best thing about this floor isn't only on its strength. You can actually display your rug and carpet collection to cover some part of this flooring.
10. Paver with Mortar Joints
Paver is one of the best flooring option for every porch including the screened one. It gives you natural strength and easy maintenance option. Meanwhile with proper set up, it can deliver natural outdoor beauty into your porch.
Mortar joints should strengthen it while it actually gives you even better look. Explore on setup patterns before installation.
See also: Best Covered Porch Design Ideas For Better Visual Appeal
11. Brick Floor
Brick is something simple and less expensive comparing to several other options. It is pretty strong, but it needs some more touch to make less dusty than it naturally is. However, its natural look is everything.
The other great thing about this flooring is on how playful the pattern can be. If you want real outdoor touch and casual atmosphere, this flooring is perfect.
See also: HOW TO BUILD PORCH COLUMN USING BRICK FOR NATURAL LOOKING PORCH
12. Outdoor/Indoor Carpet
This is a particular carpet which will make a perfect carpet both indoor and outdoor. This is also why this carpet is ideal for a screened porch. It should stands well against the outdoor elements.
It is easier comparing to ordinary carpet in terms of maintenance, while it gives you the best comfort as well at the same time.
See also: Ideas for Best Patio Furniture Sets
13. Porcelain Tiles
The best thing about porcelain tile is that it doesn't absorb too much moisture as you will find on regular ceramic tiles. It makes this tile an ideal option for a screened porch.
It takes only minimal effort for the maintenance as well while it actually looks really beautiful. You shouldn't have any problem in finding the best style or sizes.
14. Painted Mahogany
Painted mahogany is a great option for every room, according to experts. It means it makes a great flooring option for a screened porch too. While it looks really elegant, it isn't hard to maintain it as well.
This floor has great natural look and they aren't hard to install as well. It improves your porch look and value at the same time while it looks solid for the outdoor elements.
Related article: GREAT PORCH PAINT COLORS IDEAS
15. Wooden Panels
For this flooring, you can consider using the beadboard one. It has sturdy composition and the installation shouldn't be too hard. You can also stain the panel if you want to but it already has pretty natural look.
With proper maintenance, it should last for decades in your screened porch and fight well against the outdoor elements.