What will you take for your next patio project? This shelter is nice to provide shades under blazing heat. It also has plenty of options for styles. If you like classic items, then you can take wood patio. For modern and urban vibe, install aluminum or vinyl. Among these three, which one is the best option?
1. WOOD PATIO
This is a perfect match for those who care about visual. No other patio options could beat the beauty of natural wood. It is timeless, classic, and goes well with backyard or garden setting. To add its charm, you could adjust to your required size. It is also possible to carve some pictures on wood surface. If you are fond of the carving, then you have pattern and different wood color to choose from.
Many house owners unleash their wild dream patio by using wood material. Other materials are less flexible than wood. Another reason to love wood patio is the additional hanging spots. They could be used for flower pot or other decorations. You can even install a hammock.
Costumer Review:
After the installation is done, costumers praise the final look. Unless the workers are not trusted, there is minimum chance of errors. The result is mostly as good as expected. Pay attention to the screws, though. It holds wood in place, but might allow water to slip in. Later on, the screw will get some rusts on it. As the result, the grip won't be as strong as before.
Moreover, wood patio requires high maintenance. It calls for sanding, re-coating and re-painting. Those who live in humid region might need to do these care steps more often. Wood patio might cost you less in the beginning, but don't forget to calculate the regular maintenance as well. If you miss the maintenance, then your wood will rot or crack.
2. ALUMINUM PATIO
Do you want to install patio once for all? Then aluminum material should be in your top list. Aluminum is known for its great durability and minimum maintenance cost. In short, you only need to install it once and long protection from harsh weather is yours. This material would guarantee your comfort despite of the heat, rain or snow fall.
People love aluminum for its constant shape. Compared to wood, you won't have cracked or rotting problem. Aluminum will stay in shape even after years of installation. Does it mean that aluminum patio require no maintenance? Not really. You still need to do regular cleaning. Don't worry, the process is similar to washing a car or motorcycle. All you need is water hose, cleaning liquid and brush.
Costumer Review:
Those who have calculated the long-term cost have no problem with the installation cost. It is relatively higher than the other options. Even though aluminum is one of the cheapest patio materials, the installation should be done by professional workers. For this reason, you need to pay a little bit more. Otherwise, the result won't be good enough.
Some people find DIY aluminum patio kit. They choose this option and decide to install on their own. During the process, they claim that step by step process printed on the guide book is clear enough. There is one weakness; it works for limited size only. Since every house has different measurement, DIY aluminum patio kit might not fit for all.
3. ALUMAWOOD
While comparing between wood and aluminum material, customers can't help but wish the combination of both. It would be nice to get a material with aluminum durability and wood look. If you also wish to install something like this, then the best choice available is alumawood. This material has wood pattern but doesn't easily rot or wither like the original one.
During the installation, alumawood will use minimum screws. All parts will be galvanized, thus preventing any water leakage and deep rust. Don't forget that alumawood is available in many colors. You could pick one that fits to your house style. There is no need to do repainting. The color lasts for years. In addition, you could adjust shade intensity by installing suitable patio cover.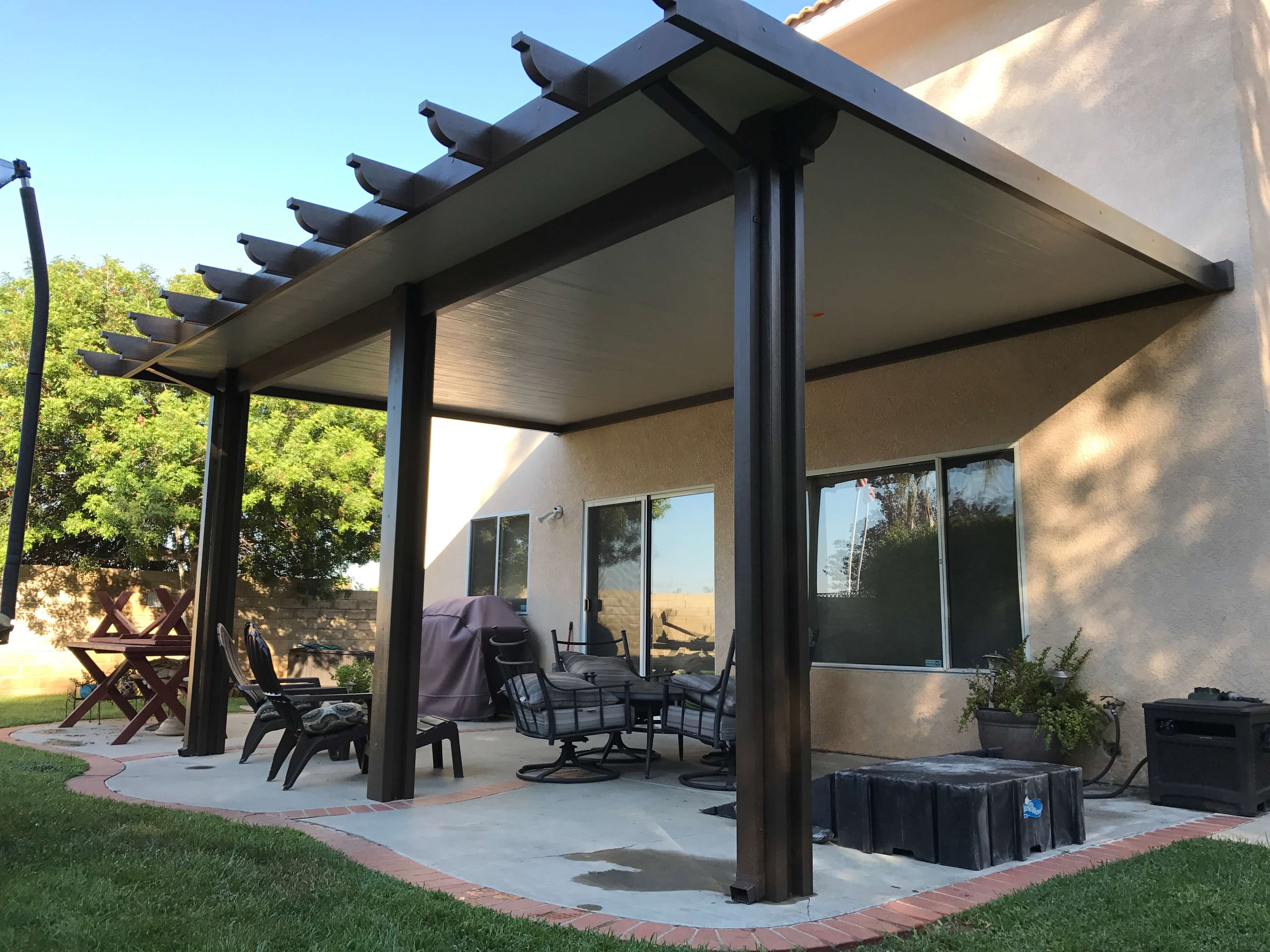 Customer Review:
A lot of costumers compliment the result. They don't mind paying around 30% more than wood patio installation. If you calculate carefully, the bill is cheaper than wood material's maintenance. Also, alumawood has great flexibility, so you could definitely experiment with fun shapes and design instead of the standard blueprint.
Before the installation process starts, some customers need building permit paper. Your area might need one, too. Make sure to check beforehand. It also applies to Alumawood replacement. Also, be prepared to cover your ears when rain falls; alumawood makes loud noises.
4. VINYL PATIO
There is another option for your patio or pergola building. It is no other than vinyl. In terms of durability, it is almost similar to aluminum. You need less effort to keep this material intact and in shape. You only need to clean the dust by spraying water and cleaning agent. Other than that, you don't have to worry too much.
Depending on the vinyl quality you choose, the price you pay will be different. For long lasting effect, you should invest on high quality vinyl. If you buy the cheaper ones, they might not last long. The replacement schedule will come earlier than expected. Vinyl is available in several colors, so you could match them with your overall patio concept.
Customer Review:
There are not much options when it comes to colors. The options are there, but they are limited. It is not possible to paint the surface either. Due to heat and weather exposure, the color fades away. In the other words, vinyl patio will have annual replacement schedule. House owners will redo the whole vinyl patio.
Another complaint is about how cheap it looks. To upgrade the patio looks, people usually distract guests by arranging beautiful furniture and colorful decorations. Despite of all those complaints, many house owners are satisfied with the installation speed. Usually the workers take only one day to finish the projects.