Fall and Winter are the best seasons two decorate your house include your porch. Most people like to decorate their porches based on season to give a warm feeling for the guests. Fall is always associated with Halloween and Winter is associated with Christmas. Here are some friendly budget ideas on how to decorate your porch for next Fall and Winter.
Read also: How to Decorate Old Porch Swing.
1. Lanterns Filled with Mini Pumpkins
If you are looking for a simple DIY project to decorate your porch for Fall, take a look at these cute lanterns filled with mini pumpkins. You can have a mixed size of lanterns and fill them with mini pumpkins and pine fruits. You also could fill a small lantern only with one pumpkin.
2. Pumpkins and Ladder
Use a wooden ladder and transform it into Fall decoration. Have mixed size pumpkins and arrange it on the ladder. You could also add lantern and small chalkboard for decoration. Next, to the ladder, put hay as a base of your potted plant.
3. Chalkboard Display
If you have a chalkboard and nice handwriting, take a look at this chalkboard display idea. Write a nice Fall quote and display it in front porch. Add pumpkin and a pot with flowers to complete the Fall look. You also could decorate the chair with straw runner and pillow with Fall colour pillowcases.
4. Hanging Wreaths
Do this festive pine branches wreath for your DIY project. You can add a mix of corn on the cobs, fall theme flowers, and apples for Fall festive look. Use linen straw fabric to hang the wreaths. You can hang it in your front door, wall or window of your front porch.
5. Fall Pillowcases
You can make these pillowcases if you are skilled with a sewing machine or you could buy the alphabet pillowcases which is easy to find it online. Put these pillows on your bench and have your porch decorated with autumn flowers, pumpkins and patch sign.
6. Old Fence, Red Wagon and Patch Sign
Transform the unused fence and use it as part of a decoration background for this design idea. Add chalkboard as a sign of pumpkin patch, fill an old wagon with pumpkins, straw wreath and lantern for a more fun look.
7. White Pumpkin and Ribbon
If you have a spacious porch where you put a table and chairs, you can decorate the table with white pumpkins and ribbon. Not only budget-friendly but also simple to make. If you cannot find a white pumpkin, you just need to put white paint on the orange pumpkin.
8. Fall Foliage Wreath
If you don't like to have a stray wreath, you could make a nice wreath from fall foliage and hang it in front of your door. To make a DIY foliage wreath, you will need a wireframe which you can find it online, reel and stub wire, pliers, scissors and of course a good selection of fall foliage. Add a wooden bucket filled with mini pumpkins to give more Fall decoration feeling.
9. Big Pot with Papier Mache Pumpkins
If you like to do papier Mache, you can try to make three sizes stacked pumpkins from papier Mache and decorate it with garland. Put these stacked pumpkins in a big pot and your budget-friendly Fall decoration is ready.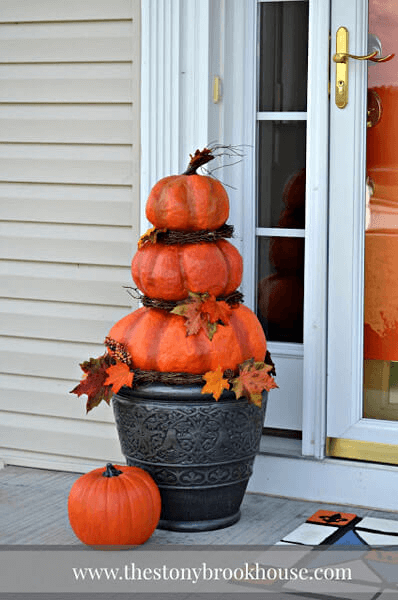 10. Winter Decoration Idea for Small Porch
If you have a small porch, you could decorate it with unused items that you can find them in your house and around to create this rustic winter decoration. Put neutral colour to avoid the small space look crowded. Add bare branches, snowflakes decorations and pines tree to add winter ambience.
In the porch bench, decorate it with LED candles, white pillow with winter theme pillowcase and blanket. For the door, you could hang a DIY branches wreath.
11. Evergreen Decoration
This design could be done very easy and not expensive at all. What you need to do is to use pinecones, pine leaves and branches and put it in a big pot that you can put in front porch. You also can do DIY pine leaves wreaths to hang in the front door.
12. Vintage Winter Decoration
If you like to decorate your porch in vintage look, why don't you try to decorate it with an old wooden snow ski and put the pine leaves wreath as part of the decoration? If you have a rattan wicker seat that usually used during warmer weather, give a winter touch by adding Christmas theme pillows and blanket.
13. Pine Trees Decoration
This decoration is not only inexpensive, but the neutral tone colour give the warmth and winter theme in front of your house. Put the pine trees on the wooden pot and hang pine leaves wreath in the front door. You also can add LED candles and a steel bucket filled with pines branches.
14. Wooden Logs with Pinecones and Candles
What you need to have for this decoration are three different sizes of logs, candles, pinecones, pine leaves, ribbon and string. You can glue the pine leaves and ribbon and put them on the logs. Add candles to be put on the top of the logs the decorate it with pinecones around.
15. Winter Basket Wreath
This hanging basket wreath could be filled with different things depends on the season. during Christmas, you could put red and gold colours and when Christmas is over, change it with a mix of pinecones, white feather, white flowers and branches. Hang it with a straw string and decorate the basket with straw fabric.
16. Winter Decoration Porch with Vintage Sledge
This idea maybe not very simple but if you have the unused materials, you could create this design without spending lots of money. You will need an old door, vintage sledge, a red wagon and a wooden box. In the red wagon.
Use an old door as the background of the decoration and on the red wagon, put the sledge and can bucket filled with branches. Put a container filled with pinecones on the wooden box. You also can hang decoration made from branches and pinecones on the sledge.
17. DIY Wooden Craft Decoration for fall
You can adopt this ideas or make your creation with other image and character. The important things is write about fall or winter. Say welcome to this season. Nice right!